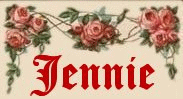 This page is dedicated to my beloved wife, *Jennie*
~ ~ August 1, 1945 to December 11, 1995 ~ ~

Have I told you yet today how much I love you???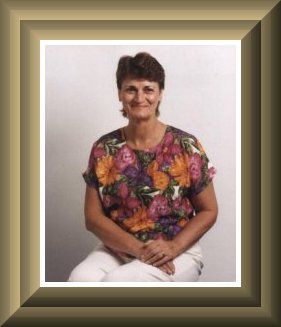 August 11, 1995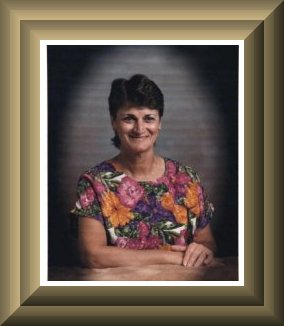 August 11, 1995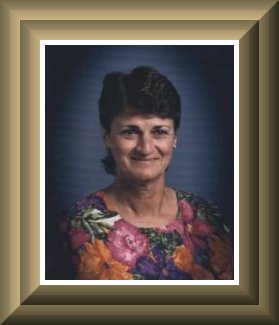 August 11, 1995

August 10, 1991

I first met Jennie in May of 1989, through her daughter Joyce, who I worked with at that time. I finally got the nerve to ask her out on a date on August 10, 1989, and we hit it off. Jennie and I moved in together, and were married on August 10, 1991. We had a great life together. Jennie was the mother of five children, and she had one grandson, Justin. Her second grandson, Mark, was born on March 14, 1991. And then in the spring of 1995, Jennie had a sharp pain in her left shoulder blade, and she thought it was just from the extra hours of work at the wholesale flower business where she was the Supervisor, and it being Easter, a very busy week for them. But, the pain persisted to get worse as time went along, especially by the time she reached Mother's day at work, there busiest time of the year. And shortness of breath was becoming quite apparent when climbing stairs, or ascending the steep walkway up from the lake at the cottage. Finally Jennie was sent to a specialist who took a lung biopsy, and blood work on the holiday Monday in July, 1995. The following Monday we were called by the specialist who wanted to see her right away. On Tuesday, July 11, 1995, a chest x-ray was done that same day, and when we took the x-ray back to the specialist, and he looked at it, compared to the other two she had done earlier, and with the results of the lung biopsy, and the blood work, Jennie was diagnosed with bone cancer, and cancer of the right lung. This hit us like a ton of bricks. We left his office and got into the elevator. My legs went to rubber, and I collasped in the elevator. I had to sit for a bit before we got to the car, just so I could function properly again. I was just stunned. But, I know deep down inside where it all counts, we both sort of knew, or suspected this, especially, Jennie. And because cancer does not start in the lung, she had to undergo further tests to see if they could find out where it originated from. This was never found out.
We then had the chore of telling the kids, and the rest of her and my family. We also had to make an appointment to see a specialist at the cancer clinic who then became her regular doctor at the cancer clinic. We also had an appointment to see out regular family Doctor right after receiving the diagnosis from the specialist. He told us that if we needed anything, or had questions, or if something medically came up, to call right away, and he would see us both right away. I only had one question on my mind at the time. "How much time do we have left together??" Jennie didn't want to know anything about how much time she had left, so she left the room. So, I asked the Dr. if Jennie would be here for Christmas?? He said, Hal, she may have six months, and she may have a year left. But, to be totally honest with you, to be here for Christmas, cross your fingers and pray like Hell. Well, needless to say, Jennie wasn't with me for Christmas.
Jennie's oldest son, Dave, was to be married in Ireland the following year, and upon hearing our news, immediately made plans with his fiance', Edel, to move the wedding up, and they got married on September 8, 1995, here in Ontario, Canada, so Jennie could attend while still able to do so. In the meantime, I had my shifts changed to midnites, so I could be available with her during the day and evening, and one of the kids usually spent the nite with her. It also became quite apparent at this time that she could no longer climb the stairs to the washroom, or to bed, so with the help of our faimly doctor, I brought in a commode and a hospital bed which was set up in the living room for her. Then, on October 13, 1995, just after getting back home from being out with her sister; her sister woke me up in a panic, and said something was wrong with Jennie. I tore down stairs, and it appeared to me that Jennie had just suffered a stroke, or heart attack. I immediately called our family doctor, who told me to call an abulance, and get her to the hospital. It was diagnosed there the following morning by cat scan, that the cancer had gone up her spine to her brain where they found three cancer tumours had formed, causing the stoke. The worst day of my life was having to tell Jennie that the cancer had now spread to her brain. Jennie was in the hospital for four days, and I then had to take her to the cancer clinic, where it was suggested she undergo radiation treatment for the tumours on her brain. Jennie was told that it could possibly add six moths to one year to her life. And when given those kind of possible, or positive odds, you go for it, and she did. This was for 5 days, fifteen minutes a day. There was to be no reactions to the radiation, but Jennie immediately was sick, and could not stop vomiting.
I then got together with our family doctor, and he assisted me in getting us a medication to stop the vomiting, after the third try; and VON nursing visitations four times a day. It became quite apparent that we now had to move into an apartment where the washroom and everything was on one floor, as Jennie could no longer climb the stairs to the washroom, or to bed. So, we moved November 1, 1995 into a two bedroom apartment. And Jennie's youngest son Mike, moved in with us. Jennie never did see the Apt., as she said if she wasn't going to be able to live with me there, then she didn't want to see it, and she never did. Jennie was able to for a couple of weeks, sit on the couch for an hour or so, but spent most of her time in bed which I had set up in the living room, in front of the window, so she could at least be able to look out side. She wasn't able to eat anything, as she couldn't keep it down any longer. And with the help of our family doctor, I immediately set the apartment up into a mini hospital room, with oxygen, IV, and the morphine pump. And I had the VON nurses coming in four times a day. On the November14, 1995, I had a talk with my family doctor, who suggested I take a leave of absence from work if I wanted to spend any quality time with Jennie with the time remaining for her to be with me. The cancer was taking its toll so fast at this point!!! And the pain level was just getting so unbearable for her, and I was now increasing the morphine strength in the morphine pump, once to twice a day now. So, I took a six month leave of absence from work, and I was with Jennie from 7:00 am. in the morning when the morning, setup nurse came in, until 11:00 pm. when I had a family member, or nite care person, come and spend the nite with her so I could get some sleep. I also had someone come in during the afternoon, from 2:00 pm. to 4:00 pm., so I could use this time to run for medical supplies, or more morphine, etc., or just go to Tim Horton's(coffee shop) for a coffee for a little time to myself to think and or cry. At this point in time, I was taking mild sleeping pills so I could sleep, and a mild sedative to just take the edge off, and allow myself to function, and remain in control which was a must.
The last 3 weeks of Jennie's life were the worst for her. The cancer had now spread all through her and into all her organs. The pain was just so unbearable for her, and with the morphine increased daily now, she slept most of the time. I remember the third Thursday nite in November. Jennie was sleeping, and I was reading on the couch, and Jennie yelled for me. She was very aggitated, and said, "He is waiting for me". I said, "who is waiting for you?" Jennie said, "God is waiting for me. I can see the bright lite." Jennie started to cry, and said, "Hal, I don't want to leave you. I love you." I said, "Hon, if God is waiting and wants you to go with him now, then go with him. It's okay. It's Going to be okay, Hon." Jennie's breathing got very, very shallow at this point, and she just closed her eyes, and laid there, with tears running down her face. I sat there with her for a few hours or more, just holding her hand, with tears running down my face, shaking, and scared out of my tree, not knowing if she was leaving me now or not. Her middle son Duane came in, and I asked him to call the Dr. which he did, and to call for a nurse, just in case we needed the nurse. The Dr. said it is possible she is now at peace, and ready to go and leave me, and to keep in touch with him, and the nurse came in and stayed with us for a few hours. Jennie's breathing remained very shallow for hours. Well, Jennie didn't leave me that nite, and was here for another 3 weeks yet. One of the hardest parts to all this, is the not knowing what to expect, or the knowing how it will happen when Jennie does leave me.
The last 2 weekends were the worst for Jennie to. She became very aggitated, and had a very high fever of 105+, on both last weekends. The cancer had now spread all through her. I was using Tylenol supposatories, every four hours, and had a wet towel brigade going with her daughter Joyce, her sister Sya, and her sister-in-law Ellen, to try and cool her down, and bring her fever down. We were also using ice to cool her down, and to keep her lips moist. We kept this up for 48 hours on both last weekends. And the higher her fever went, the more aggitated she got. By Sunday nite, her fever broke, and we had it under control again. And Jennie was sleeping peacefully again.
Jennie succumbed to the cancer at 3:15 am. on Monday, December 11, 1995. Exactly 5 months to the day when she was first told she had cancer, on July 11, 1995. Jennie had a very positive out look on life right to the end. I was very proud of her for the way she handled it. Jennie's last words spoken at midnite that nite, was to tell me that she loved me, and that she didn't want to leave me. She never spoke another word after that. Jennie passed away at home with me and her family around her, where she belonged. Present with me that last nite, was Jennie's oldest son Dave, and his wife Edel, and Jennie's sister-in-law, Ellen. I am so glad that I was able to provide her with the care and understanding that she needed while going through this horrible ordeal, and that I was able to keep her at home.
One thing Jennie and I did on a daily basis from our first date, was one of us would say to the other, "Have I told you yet today how much I love you???" I had these very words put on Jennie's monument as a reminder to all who come to visit her. I loved my wife, Jennie with all my heart, and everything in me where it all counts. We had a short life together, but it was filled with so much happiness, and love, and communication, and total contentment with each other. Jennie was the true love of my life, and will always be with me, in my heart and mind. "S"
Jennie, I love yah Babe. And keep smiling Kiddo as you always did. Hey Girl, have I told you yet today how much I love you??? Bye for now,Sweet Stuff, until we meet again one day....... "S"
Loving you always,

Hal.
As a foot note, I would like to add that Jennie's youngest of two sons (twins), Murray, and his beautiful fiance', Hilary, were married in November 1998. And Jennie's oldest son Dave, and his wife Edel had a son, Blake Connor, on July 21, 1999, which is Jennie's, third grandson.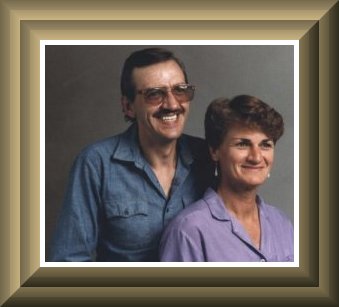 August 10, 1989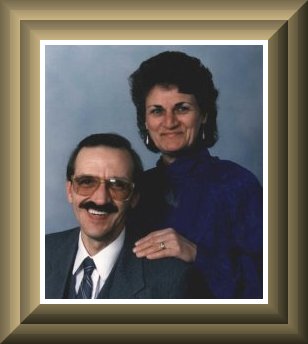 August 10, 1990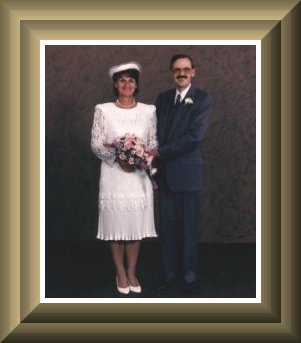 August 10, 1991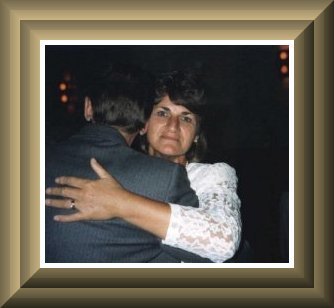 August 10, 1991

August 10, 1991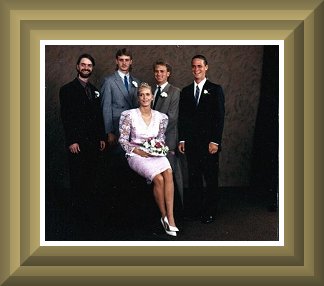 Duane, Murray, Dave, Mike, and Joyce.

Jennie's 5 children, and my step-children.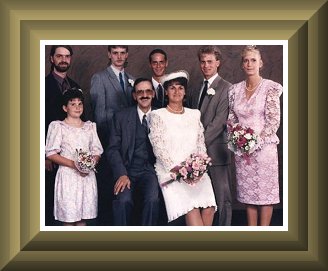 Duane, Murray, Mike, Dave, Joyce
Lesley..(Hal's daughter), Hal and Jennie

"Our Family"

MISS ME - BUT LET ME GO
When I come to the end of the road
And the sun has set for me,
I want no rites in a gloom filled room,
Why cry for a soul set free.
Miss me a little - but not too long,
And not with your head bowed low.
Remember the Love that we once shared,
Miss me - but let me go.
For this is a journey that we all must take,
And each must go alone.
It's all a part of the Master's plan,
A step on the road to home.
When you are lonely and sick at heart,
Go to the friends we know.
And bury your sorrows in doing good deeds,
Miss me --- but let me go.
Author Unknown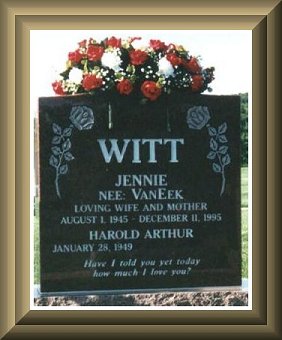 May 22, 1996




I further dedicate this page to anyone who is grieving the loss of a Loved one. And if I can ever be of any help to you, please do not ever hesitate to contact me. It would be my pleasure as always. Hal. "S"

How much sweeter it is to have known a loved one than to never have had this experience at all!!! "S"

And how truly wisely it has been said, "God gave us memory that we might have roses in December." "S"