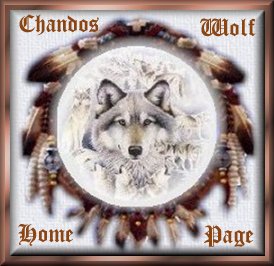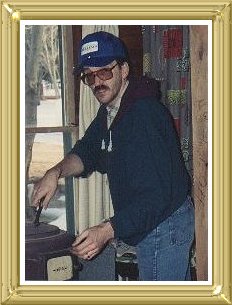 Hal (Chandos Wolf)
(1990)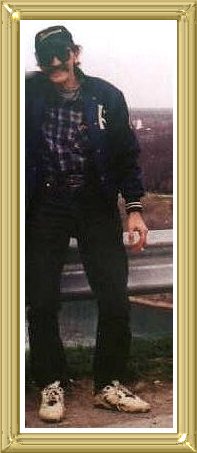 Hal (Chandos Wolf)
(04-00)
Hi! I am Hal, also known as the Chandos Wolf. I am presently 52 years young, and I am presently a widower, having lost my beloved wife Jennie to cancer on December 11, 1995. I have 5 step-children, ranging in ages from 33 to 27, and one natural daughter, Lesley, who is now the tender age of 18. I also have 3 Step-Grandchildren, and one Great-niece.
I was born and raised in Chippawa, Ontario, Canada, now incorporated as part of Niagara Falls, Canada. I love visiting here with my Dad, who is now 85 years old, my Aunt Doris who is now 83 years old, and my younger brother Jack and his wife Linda, and their family as well.
Like the Chandos Wolf, I travel alone. But like the Wolf I have a pack of enduring friendships I have been blessed with over the years. That is not to mention all of the wonderful friends I have met here on ICQ, and the many friends I meet who visit my home page and site on the net. Friendships are very important to me and I always say, "one can never have enough friends in one's lifetime", and once a friendship is established, I can be quoted as always stating, "I will always be there for you". And I mean every word of it.
I attained my love for wildlife from my Mom and Dad, who were both true nature and wildlife lovers. I remember as a kid, many a Sunday afternoon spent on drives into the country. We would watch hawks soar through the sky, spot and name various bird species, and watch the odd deer cross the road in front of us. But it always was the wolf that captured my imagination. From as far back as I can remember I always wanted to know more about this fascinating animal.
I find the wolf to be a cunning and elusive creature. I also believe the wolf is a totally misunderstood animal. As is normally the case with various wildlife species, man has a need to destroy and wipeout that which he does not understand. He sees the wolf as a nuisance and a threat to his environment. Therefore, the wolf numbers have depleted. Due to man's persistence to place bounty's on them, he has killed and nearly erased this wonderful intelligent animal from our beautiful earth. Hopefully, the wolf will continue to strive and exist outside of human interference and continue to grow in numbers.
As I have been continuously asked many times over, for the meaning of my name, Chandos Wolf. It is two fold. Chandos is the name of the lake my cottage is located on, and is a North American Native word, meaning "Loon Lake", so I have been told. Wolf came because of my love and respect for this marvelous creature. Hence, the Chandos Wolf.
It is through my Mom and Dad, especially my Mom, that I attained my love of life. My Mom saddly passed away in 1993, and my Dad has reached the age of 85, and he is still well and happy. My love of life is always evident in my up-beat and happy self. I have been told over the years by many people, that I don't take life seriously enough. Maybe I don't, but I think it is my sense of humour, my short down time periods, and my ever present values of life, that give people this outlook of me. I always accept life as it comes, and always wear a smile, which I try and pass on to others. This has always been evident to the people who do get to know me. Truly me!! So, enough about me, come chat and find out for yourself, the real Hal........*S*
And I have once again found true love in my life. I have met a very special and beautiful lady who is not only my best friend, but the true love of my life. I honestly didn't think that I would ever feel true love or total happiness like this again in my heart, mind or in my life, but Linda has touched my heart and mind with her eternal friendship and true love she gives unconditionally to me. Linda and myself met at a family BBQ and started dating shortly there after which has developed into true love. As I always say, you just never know what is around that next corner in life.
Isn't life great???
So, my friend, as you tour my home page and my web site, it is my wish you find it a friendly and relaxing place to be. I hope you come away with a little more knowledge about me, the Chandos Wolf, and see the the "Wolf" as a needed and respected member of the animal kingdom. Oh yes....please don't forget to sign my guestbook. I Look forward to knowing what new friend has visited with here today.
I hope you appreciate the hard and tedious work, and long hours given by a very special and dear friend, Stormy. She created and started and made possible my home page and my web site, "The Wolf's Den", and turned it into a reality I will treasure forever. Back in Sept. 1998, I had no idea what a Home page was, little own what html coding was. But, as I learned html coding, I was then able to pick up where she left off and I have created the site you now see today, and are visiting with me here today.
It is my further wish that you, take the time to enjoy and digest the poetic and graphic talents of my special friend. That you exit my home page a little more knowledgable, and poetically enlightened with not only the Chandos Wolf, but the exquisite work of and by Stormy.
And to you, Stormy, my eternal friend, a continuous thank you for all your hard work and long hours. You have given me a beautiful, and outstanding home page and web site. The Wolf's Den is second to none, and always makes me very proud, as I am just knowing you and calling you my friend.
"Take care, be happy and keep smiling".....my parting wish for all who visit here.
Hal
(Chandos Wolf)
P.S. My ICQ number is 32723584. You will always have an open invitation to drop in and say hello, and chat with the ChandosWolf. Clean chat, never ending humour, and a true friend is all you will ever find there. So, grab a coffee and let's chat!!!!


*The backgrounds, banners, dividers, graphics, animations, logo's, gifts, and awards, on my Home page are copyrighted and or the property of "Chandos Wolf". Please do not take or use without my written permission.
*I receive files containing pictures and graphics sent to me by friends and aquaintances, who surf the net. Should you find any graphics, pictures, or logo's which have been taken from your Home page and site without your permission, and used on my Home page and site, please contact me to either remove or link back to your site. I will honour your request. "Chandos Wolf".