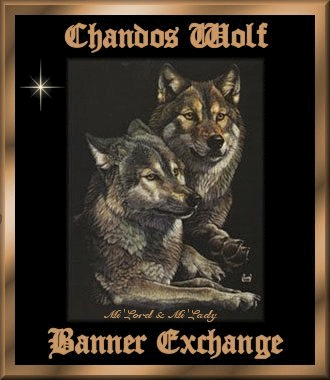 You may take any one of the following Chandos Wolf's banners to add to your site . All I ask is that you right click and save the banner to your own harddrive and then link my banners back to my Home Page using the following link:
http://ChandosWolf.tripod.com
Please do NOT take my banner if your sites contains Profanity, Racism, Pornography, Adult material, and should be for all ages to enjoy and visit. And I do NOT want my banner displayed on any sites displaying Killed animals for Sport or animals shown as Hunting Trophys!!! I reserve the right NOT to link my banner or site under any of these expressed requirements!!!
And should you wish to send me one of your banners, I will gladly display your banner on my Links to Other Sites pages, with a link back to your Home page and site.
Please sign my guest book, letting me know that you visited my site. I hope you enjoyed your visit.
Chandos Wolf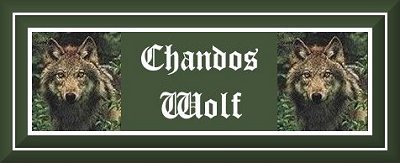 "Chandos Wolf" Banner #1


"Chandos Wolf" Banner #2

"Chandos Wolf" Banner #3




*I receive files containing pictures and graphics sent to me by friends and aquaintances, who surf the net. Should you find any graphics, pictures, or logo's which have been taken from your Home page and site without your permission, and used on my Home page and site, please contact me to either remove or link back to your site. I will honour your request. "Chandos Wolf".

*The background, buttons, banner, animations, graphics, photos and dividers on this page are copywrited and the property of "Chandos Wolf". Please do not use without my written permission.